Abstracting and Indexing
The Journal of Advance Research in Business Management and Accounting is listed in the abstracting and indexing databases below:
Cosmos Foundation was founded by renowned scientists. A group of 100 scientist from various countries in different disciplines are started Cosmos (2010) with specific objective of providing quality information to the researcher. We offer academic database services to researcher. We provide impact factor and index of academic journals, books. We maintain academic database services to researchers, journal editors and publishers. Cosmos provides a detailed report of individual journal for further improvement of respective journal overall look up and technical aspect for better Impact Factor.
Citefactor is a service that provides access to quality controlled Open Access Journals. The Directory indexing of journal aims to be comprehensive and cover all open access scientific and scholarly journals that use an appropriate quality control system, and it will not be limited to particular languages or subject areas. The aim of the Directory is to increase the visibility and ease of use of open access scientific and scholarly journals thereby promoting their increased usage and impact.
The CIEPS, also known as the ISSN International Centre, is an intergovernmental organization which manages at the international level the identification and the description of serial publications and ongoing resources, print and online, in any subject. The ISSN International Centre was officially created in Paris in January 21st, 1976, under the terms of an agreement signed in November 1974 between UNESCO and France, the host country of the International Centre.
The ISI server provides indexing of major international journals and proceedings. Author can get information about international journal impact factor, proceedings (research papers) and information on upcoming events. All the journal pages have pointers to Web pages of the publishers which are integrated into the ISI stream pages.The purpose is to increase the visibility and ease of use of open access scientific and scholarly journals. If your journal is indexed & got validated stamp from ISI, you canrequest for the calculation of impact .
Scope Database is a collection of bibliographic citation database of scholarly scientific journals, conference proceedings, trade journals and book series. Scope Database is the world's most trusted global citation database used by many research Institutions all over the world. Scope Database provides extensive summary of the research achievements in the fields of Science, Engineering, Technology, Management, Medicine, Social Sciences, Arts and Humanities etc.Scope Database is a non-profit educational organization and not collecting any fee for subscription from research scholars, Publishers, Institution / University and others.Scope Database is an Indian organization, formed by a group of researchers. Scope Database is no way connected with any other journal metrics analysis companies.The analysis is made available on this website as a way to advance research and teaching related to research and development for the public good.
The Indian Institute of Oilseeds Research (IIOR) formerly Directorate of OIlseeds Research was established on August 1, 1977 with the elevation of All India Coordinated Research Project on Oilseeds (AICORPO). It was operated with the Headquarters at Rajendranagar, Hyderabad with Project Director as its administrative head with the assistance of seven Project Coordinators for groundnut, rapeseed-mustard, sesame & niger, linseed , castor, safflower and sunflower. Subsequently, groundnut and rapeseed-mustard were delinked from the Directorate with the establishment of National Research Centre for each of these crops during 1979 and 1993 respectively. In April 2000, the AICRP on sesame & niger and linseed have been separated from the administrative control of IIOR. With the upgradation of DOR to IIOR, sesame, niger and linseed has been added with the existing mandate crops such as castor,safflower and sunflower.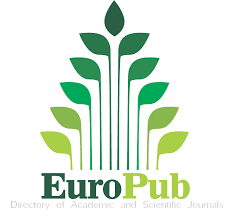 The EuroPub corporation organized and existing under the laws of the England country with No., 13127935. EuroPub database started its scientific activity in 2015 which right now includes more than 27,000 journals and at least 700,000 articles, the other websites that are undercover of EuroPub can be named Euroacadamia for the journal certificates and Sjournals).
It is an international, recognized platform for promoting scientific achievements, as well as supporting publishers and scientific communities interested in state-of-the art research activities in innovation and applied science areas. We invite you to give your contribution for enhancement of our specific sections